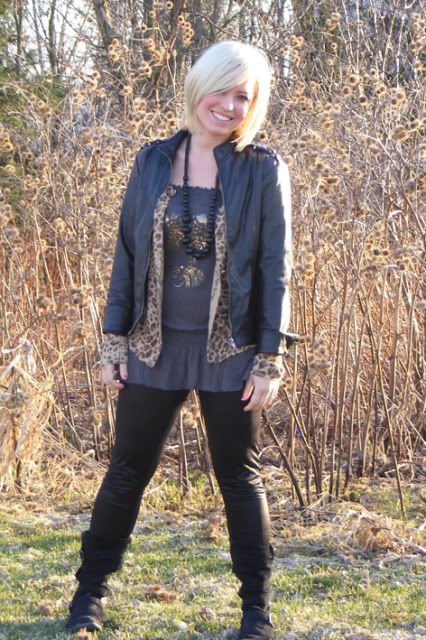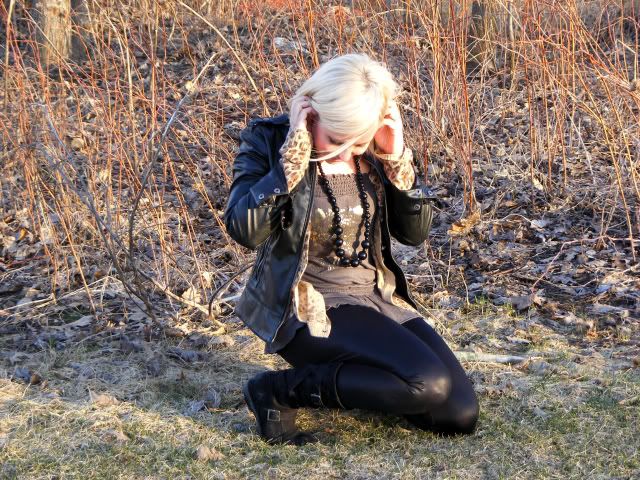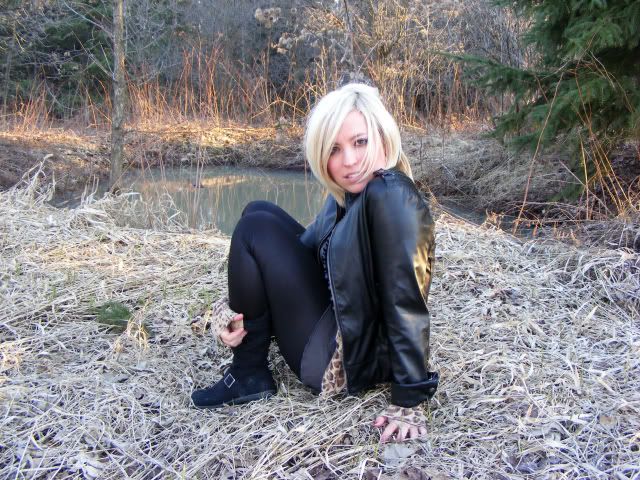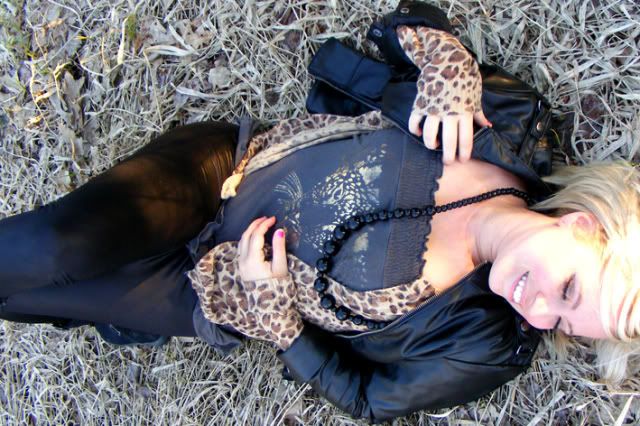 Siren : Grey and gold panther top
Finally
a beautiful day !!! My friend Caroline came to visit and we had an amazing time !! So much fun taking those pictures !! As you can see I don't really take myself too seriously ! We decided to go to New-York city this July with our boyfriends !! Soooo Happy and can't wait to go to the TopShop !! I' ll have the chance to shop twice in the city cause I' ll go back to NYC with Stephanie (modern.antoinette ) this september , two NY trips but it's gonna be sooo different !! With Caroline I' ll show her the city cause she never went to New-York before and with Steph ... lots of shopping .... ;) 
Here some questions that I had to answer from Stephanie ! :P Heres the rules :
1. Respond and rework: answer the questions on your blog, replace one question that you dislike with a question of your own invention, add one more question of your own.
2. Tag eight other un-tagged people.The lady's I've tagged are: alexandrastyle ,Behind the seams , GodblessParis , Handes closet , Jo's Clothes ,Le blog de Betty ,The cherry blossom girl and Michaheart's blog ! :)
What is your current obsession?

Twilight lol

 
What is your weirdest obsession? 

Cushions lol I love beautiful cushions with different pattern , fabrics and color! I want them all !! 
What are you wearing today?

See above...
Why is today special?

I m planning my trip to New-York :) Everyday ' s special I have the chance to see my son grow up and do new things everyday !! :)
What would you like to learn to do?

To sew , create my own clothes
What's for dinner today? 

Barbecue 
What's the last thing you bought?

New cushions for my living room ,an art piece for my living room as well and hair products 
What are you listening to right now?

Nelly Furtado... shes the best ! :P
What is your favorite weather?

Summer time !! Everybody's happy :) I love dresses without tight  , it makes me  feel so free ! 
What is your most challenging goal right now?

I'm working on a scenario for a television serial on the net :) 
What do you think about the person who tagged you?

She is beautiful inside and out , her sense of style is unbelievable and she is such good friend as well !
If you could have a house totally paid for, fully furnished anywhere in the world, where would you like it to be?

SOHO NYC
Favorite vacation spot?

Paris and Cuba to relax :)
What would you like to have in your hands right now?

Lots of money ! LOL
What would you like to get rid of?

Some bad habits ;)
If you could go anywhere in the world for the next hour, where would you go?

It's snowing today ... WTF ...So Walt-Disney :) It's sunny  and warm over there and lots of fun for the day :P
Which language do you want to learn?

I know french english ,a little bit of Spanish and German ...so I ll say .. Hebrew :)
What did you dream of last night?

;) I was in Cuba with 2 of my friends ! I think I need some vacation under the sun lol
Who do you want to meet in person?  

Nicole Richie To go to the park with our kid and talk about fashion ! :)
One thing that you would snitch out of someone's closet, with no regrets?

Anyone's Balenciaga bag..simple but I really want to buy one. . (same as steph)
What's the favorite piece of clothing in your own closet?

All of my BCBG s dress !
What is your dream job?

Actress
CFO of a high fashion company?

Can't think of anyone right now
Favorite style steal tv/movie right now:

Gossip girl

 
En fin une belle journée !! J' ai reçu la visite de mon amie Caroline pour la fin de semaine et nous avons planifié notre voyage en couple à New-York pour le mois de Juillet ! J' ai vraiment hâte parce que j' ai maintenant 2 voyages de planifié dans cette magnifique ville , un en couple et un autre au mois de Septembre avec Stephanie (modern.antoinette) ! Ce qui veux dire 2 voyages dans la même ville mais complètement différent , avec Caroline cela va être des visites guider , shopping , resto entre couple et avec Stephanie Shopping shopping shopping !! lol ;P En parlant de Stéphanie, elle ma sélectionné pour un questionnaire .. et je les traduis pour vous en français .....Le voiçi ! 
Obsession actuelle ?
Twilight lol
Ton obsession la plus étrange ?
Les coussins lol ! J adore les coussins avec différentes couleurs et tissus !
Que porte tu aujourd'hui ?
Ce que vous voyez en haut !
Pourquoi aujourd'hui est une journée spécial ?
Je prévois mon voyage à New-York ! En fait tout les jours est une journée spécial , avec un petit garçon qui grandit à la vitesse de l' éclair ,il fait des nouvelles choses tous les jours ! :) 
Que voudrais tu apprendre?
J' aimerais apprendre à coudre , créer mes propre vêtements
Pour souper je mange ...
Du Barbecue 
Dernières choses que tu as acheté ?
Des nouveaux coussins pour mon salon ainsi qu'un oeuvre d' art et des produits pour les cheveux ! 
Ce que tu écoutes en ce moment ?
Nelly Furtado... c'est la meilleure ! :P
Ta saison préférée? L'été !!
Tous le monde est heureux !! J' adore porter des robes sans collant , on ce sent si libre :P
Quel est le projet sur lequel tu travail en ce moment?
Je travail sur un scénario pour une émission qui va être diffuser sur le net 
 Que pense tu de la personne qui ta taggé pour ce questionnaire?
C' est une personne avec beaucoup de style , belle de l' intérieure et extérieure et est une amie incroyable !
Tu as une maison payé , logé et tu a le choix du lieu , ou irais tu vivre ?
Soho New-York
Ou aimerais tu aller en vogaye .
.. Paris
Que veux tu avoir dans tes mains en ce moment ?
beaucoup d' argent lol
Tu veux te débarrasser de ...
mes mauvaises habitudes 
Si tu peux partir n' importe ou dans l' heure qui suit ou irais tu?
Il neige en ce moment ?%?&$% alors j' irais à Walt-Disney , il fait beau et chaud et cela changerais les idées :P 
Quelle langue voudrais tu apprendre?
Je parle français , anglais , un peu l' espagnole et l' allemand alors j' irais avec ... l' hébreu !! :P 
À quoi à tu rêvé hier soir? J' étais à cuba avec 2 de mes amies !
J' ai besoin de vacance je pensse !! lol :P
Qui voudrais tu rencontrer?
Nicole Richie , comme ça on pourrais aller au parc avec nos enfants et parler de la mode ! 
Quelque chose que tu volerais dans un garde-robe avec sans regret ?
Un sac Balenciaga
Vêtement favori dans ton garde-robe ?
Toute mes robes BCGB !
La job de mes rêve ?
Actrice
Émission préféré :
Gossip Girl