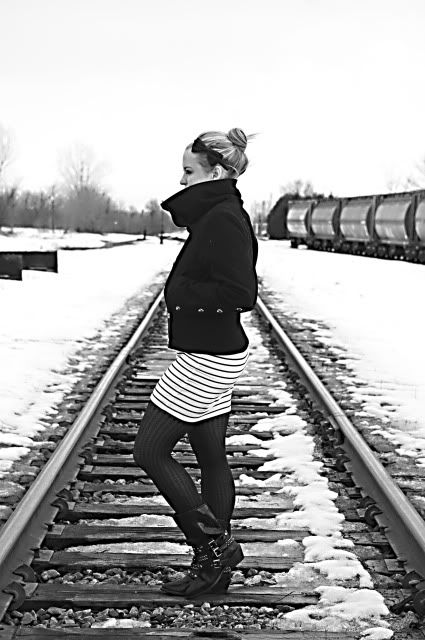 HONEE (WINNERS)

military coat

ZARA

jersey dress

STEVE MADDEN

booties

ALDO

tight

ARDEN

headband
Cette semaine débute la semaine de la mode à Montréal et malheureusement je ne peut y être !
Mais je me promet d'être au prochain rendez-vous ! Par contre rien n'empêche de vous faire connaître
les designers que je préfère, qui fera défiler leurs créations sur le runway montréalais!
Pour ce qui concerne ma super mission de la semaine passé et bien j'ai totalement échouée! Je n'est
trouvé aucun pantalon à mon goût mais je dois dire que je ne suis pas tout à fait perdante avec tout
ces rabais de fin de saison!Je suis sortie avec 2 jupes de chez Zara pour seulement 9$ chacune, ce manteau
style militaire pour 10$ (et qui en valait 100$) et puis ces formidables bottes Steve Madden pour 16$(valais 120)$!!
Alors peut-on me déclarer la grande vainqueur!!? Oui oui oui ! :)
It's fashion week here in Montreal and unfortunately I can't be there! But I promised myself to be there for
the next rendez-vous!So why not introduce you the designers that I like the most, who will be presenting
their creations on the runway in Montreal!
Regarding my great mission of last week; well I totally fail but I must say that it wasn't that bad with all these
clearance!I bought 2 skirts at Zara for only 9$ each, this awesome military coat for 10$ (was 100$) and these
Steve Madden booties for only 16$ (was 120$) So can I declare myself as the big winner!!?? Yes Yes Yes !! :)
http://www.coccolily.com/index.php
http://www.evegraveldesign.com
http://www.helmerjoseph.com/index.html
http://www.mariesaintpierre.com/msp_fr.html
http://www.nadyatoto.com/2008/index.html
http://philipsparks.com/collection.html