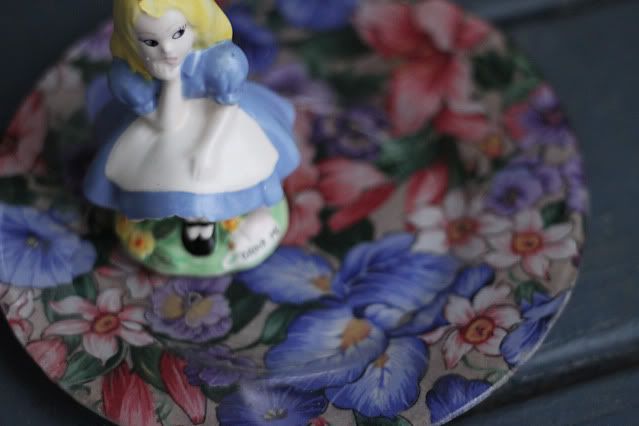 Une jolie assiette fleurie achetée dans une vente de garage pour 2$ J'aime les collectionner!
Ma maman ma offert cette salière d'Alice en cadeau pour ma première maison!
Beautiful floral plate that I bought in a garage sale for only 2$ I like to collect them!
My mom game me this Alice in wonderland saltcellar for my first house!
Broche leopard achetée au marcher au puces pour 5$
Leopard brooch for only 5$ at the flea market

!
Petit oiseau acheté dans une serre pour 12$ Je l'adore je le trouve tellement mignon!
I bought this little bird in a greenhouse for 12$! I love it I find it sooo cute!
Cette broche scarabée est une de mes trouvailles dont je suis la plus fière!!
2$ dans un sous-sol d'église!!Vous imaginez!!!
This beetle brooch is by far my favorite purchase!Only 2$ can you imagine!!
Ce Polaroide fut prise par ma cousine! J'adore cette photo parce que 1. j'ai rarement
des photos avec mon amoureux 2. c'est ma seul photo polaroide 3. elle me rappelle
une agreable soiree passee en compagnie de ma cousine!!
This Polaroid was taken by my cousin!I love this picture because 1.I rarely have pictures
with my boyfriend 2. this my only Polaroid photo 3.it reminds me of a great evening with